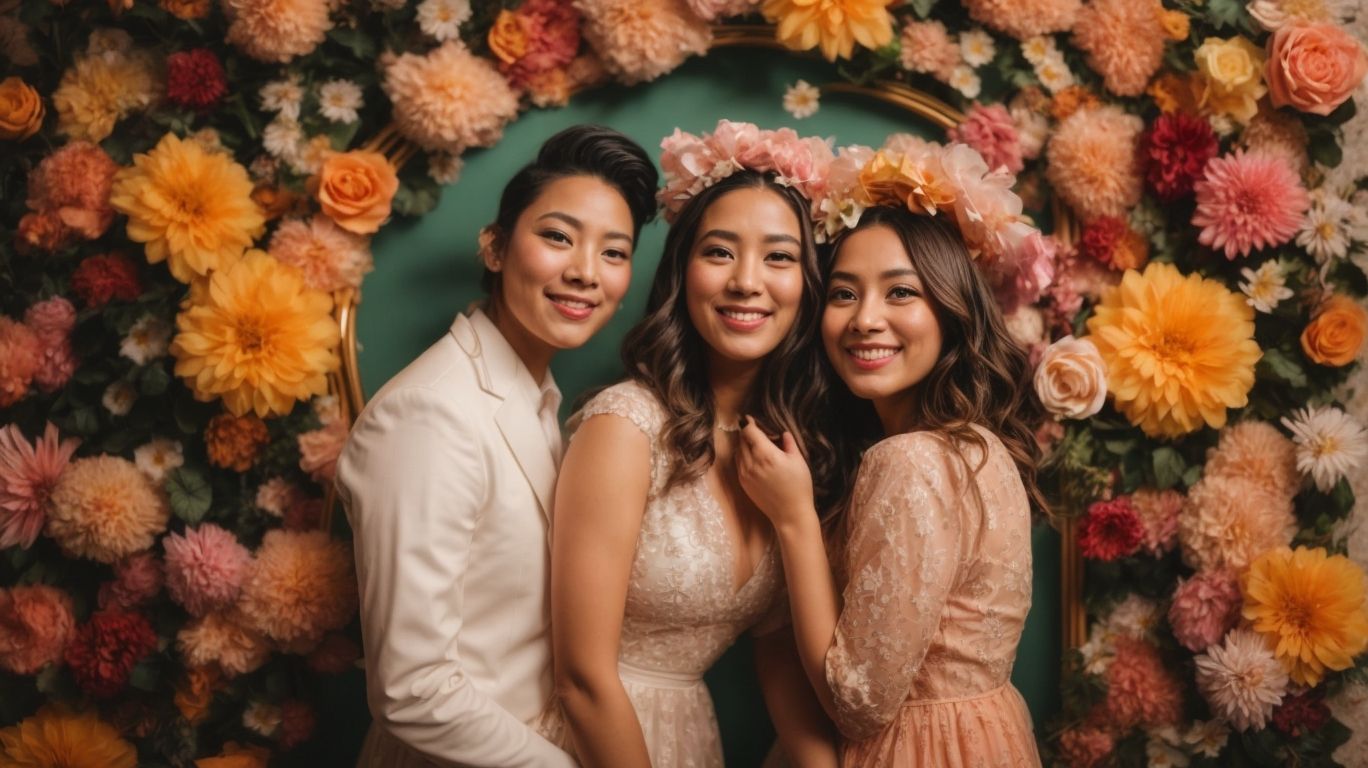 When it comes to wedding celebrations, capturing special and memorable moments is a top priority. One way to add a touch of uniqueness and creativity to your wedding photos is by incorporating unique photo booth ideas. These original concepts not only provide entertainment for your guests but also create an opportunity for candid and fun shots that you will cherish for a lifetime.
Why Choose Unique Wedding Photo Booth Ideas?
Incorporating unique wedding photo booth ideas adds an extra element of excitement and personalization to your special day. It offers a chance for guests to interact and have fun while capturing beautiful moments. Unlike traditional photo booths, unique ideas allow you to infuse your wedding theme, style, and personality into the photo booth experience, making it a memorable and enjoyable part of your celebration.
One way to enhance your photo booth experience is through props and themes. Vintage photo booths provide a nostalgic and classic atmosphere, while rustic outdoor booths offer a charming and natural backdrop. Beach or tropical-themed booths bring the vacation vibes and movie or Hollywood-themed booths add a touch of glamour and sophistication to your wedding photos.
Besides incorporating props and themes, interactive and fun photo booth experiences can take your wedding to the next level. GIF photo booths capture a series of images and create animated GIFs, while slow-motion video booths record playful and exaggerated movements. Green screen photo booths allow you to place your guests in different virtual backgrounds, and mirror photo booths provide a unique and interactive reflection for guests to capture their best poses.
Customized photo booth backdrops also play a significant role in creating stunning and Instagram-worthy wedding photos. Floral wall backdrops offer a romantic and elegant setting, while balloon arch backdrops provide a playful and whimsical atmosphere. Neon light backdrops add a vibrant and modern touch, and chalkboard backdrops allow you to showcase personalized messages and drawings.
Why Choose Unique Wedding Photo Booth Ideas?
Choosing unique wedding photo booth ideas can add a special touch to your big day. It allows you to create memorable moments and entertain your guests. Here are a few reasons why you should choose unique wedding photo booth ideas:
Stand out: Choosing unique wedding photo booth ideas makes your wedding different from others, creating a lasting impression on your guests.
Show your personality: Customizing the photo booth to match your theme or interests reflects your style and adds a personal touch.
Interactive experience: Unique wedding photo booth ideas engage guests, encouraging them to have fun and interact with each other.
Memorable keepsakes: Guests will cherish the fun photos and props, providing them with a physical memory of your wedding day.
Incorporating Props and Themes
Looking to add that extra touch of charm and creativity to your wedding photos? Look no further! In this section, we'll dive into the world of incorporating props and themes into your wedding photo booth. From the allure of vintage vibes to the rustic charm of the great outdoors, we'll explore the possibilities of creating a memorable experience. Get ready for some beachy, tropical fun, or step into the spotlight with a movie or Hollywood-themed photo booth. Let your imagination run wild as we explore these unique wedding photo booth ideas!
Vintage Photo Booth
A vintage photo booth is a charming and nostalgic addition to any wedding. Here are some ideas to create a vintage-inspired photo booth experience:
1. Vintage Photo Booth Props: Incorporate vintage camera props such as old film cameras, vintage microphones, and retro phones to add authenticity and create a vintage atmosphere.
2. Antique Furniture: Utilize vintage furniture pieces like vintage sofas, ornate chairs, or an old-fashioned vanity table as the backdrop for guests to pose with in the vintage photo booth.
3. Vintage Clothing and Accessories: Provide a selection of vintage hats, feather boas, suspenders, and bow ties for guests to wear and capture the essence of the era while using the vintage photo booth.
4. Vintage Filters: Enhance the photos with retro filters using a specialized photo booth app or software to give them an authentic vintage look in the vintage photo booth.
Creating a vintage photo booth will transport your guests back in time and add a unique and memorable element to your wedding celebration.
Rustic Outdoor Photo Booth
When it comes to unique wedding photo booth ideas, a rustic outdoor photo booth can add a charming and natural touch to your special day. Here are some ideas to create a rustic outdoor photo booth:
Use wooden barrels or crates as a backdrop for a rustic feel.
Hang fairy lights or mason jar lanterns to create a soft and romantic ambiance.
Create a DIY photo booth frame using reclaimed wood or old windows.
Incorporate natural props like hay bales, vintage suitcases, or wooden signs.
A Rustic Outdoor Photo Booth provides a picturesque backdrop for capturing unforgettable moments and adds a touch of nostalgia to your wedding festivities. Capture the essence of nature while creating lasting memories with your guests.
Beach or Tropical Photo Booth
A beach or tropical photo booth can bring a lively and vibrant atmosphere to your wedding. Here are some suggestions for creating the perfect beach or tropical-themed photo booth:
Create a backdrop featuring a colorful beach scene, palm trees, or tropical flowers.
Incorporate props such as sunglasses, beach hats, flip flops, and inflatable pool toys.
Set up a DIY tiki bar with tropical drinks for guests to enjoy.
Include beach-themed accessories like seashells, starfish, and tropical fruits.
Add beach-inspired photo booth filters or frames to enhance the tropical vibe.
With a beach or tropical photo booth, you can transport your guests to a tropical paradise and capture unforgettable memories.
Movie or Hollywood-themed Photo Booth
A movie or Hollywood-themed photo booth can enhance the glamour and excitement of your wedding day. Follow these ideas to ensure an unforgettable photo booth experience:
Red carpet entrance: Make your guests feel like VIPs by creating a grand entrance with a red carpet and velvet ropes.
Backdrop: Set the scene with a movie-inspired backdrop, such as a Hollywood sign or a movie theater marquee.
Props: Offer director's clapperboards, film reels, vintage cameras, and Oscar statuettes as props for guests to pose with.
Costumes: Provide a costume rack filled with fun items like feather boas, top hats, and sequined jackets to help guests get into character.
Photo strips: Personalize your photo strips with a filmstrip design or add Hollywood-themed graphics.
By incorporating these elements, you can create a movie or Hollywood-themed photo booth that captures the enchantment and excitement of the silver screen on your special day. Lights, camera, action!
Interactive and Fun Photo Booth Experiences
Capture unforgettable moments and add an extra dash of excitement to your wedding with interactive and fun photo booth experiences. From GIF booths to slow-motion videos, green screen magic, and even mirror booths, we unveil a plethora of innovative options to inspire your guests. Step into a world where creativity meets technology, where smiles and laughter are immortalized in pixels and memories are etched forever. Get ready to dive into the immersive world of interactive photo booth experiences that will elevate your wedding day to new heights.
GIF Photo Booth
A GIF photo booth, also known as a GIF booth, is a highly popular and innovative addition to any wedding celebration. It serves as a creative platform for guests to capture and preserve fun, exciting, and unforgettable moments through short, looping animations in the form of GIFs. There are several compelling reasons why incorporating a GIF photo booth into your wedding can truly set it apart and make it a unique experience:
Interactive Experience: By featuring a GIF photo booth, you actively encourage and engage your guests to participate and have a blast. They can strike a multitude of creative poses, utilize themed props, and create entertaining GIFs that will bring out their playful side.
Social Media Sharing: Thanks to the instant sharing capabilities of a GIF photo booth, your guests can promptly upload and share their hilarious and heartwarming GIFs on various social media platforms. This generates a sense of buzz, excitement, and online chatter surrounding your wedding, allowing people to join in the celebration virtually.
Personalized Keepsakes: GIFs captured in the booth can be transformed into tangible mementos. You have the option to either print these GIFs as physical copies or send them digitally. This provides your guests with highly personalized keepsakes that they can cherish long after the wedding is over, each GIF serving as a special reminder of the joyous occasion.
Multifunctional: Some GIF photo booths go above and beyond by offering additional features such as photo and video capture. This versatility enables your guests to choose between different formats, allowing them to document their experience in the manner that suits them best.
Incorporating a GIF photo booth into your wedding adds an extra layer of fun, interactivity, and uniqueness to the event. It creates lasting memories for both you and your guests, transforming your special day into an extraordinary celebration that will be remembered fondly for years to come.
Slow-motion Video Booth
A slow-motion video booth is a fantastic and exciting addition to a wedding photo booth experience. Here are some essential steps to follow when creating an unforgettable slow-motion video booth:
Set up a designated area: Create a specific and easily accessible space for the slow-motion video booth, ensuring that all guests can find it effortlessly.
Provide props and accessories: Enhance the slow-motion effect by offering a wide range of enjoyable props such as confetti, streamers, or even silly string.
Use a high-speed camera: To capture the perfect slow-motion footage, make sure to employ a camera capable of shooting at a high frame rate.
Give clear instructions: Ensure that your guests understand how to pose and interact with the props effectively, resulting in dynamic and exciting slow-motion scenes.
Edit and share the videos: Once the event is over, compile all the mesmerizing slow-motion videos and share them with the couple or wedding guests, leaving them with a truly unforgettable keepsake.
Integrating a slow-motion video booth into your wedding will provide a unique and delightful experience for everyone involved. Enjoy capturing these precious moments in a fun and entertaining manner!
Green Screen Photo Booth
A green screen photo booth is an excellent addition to your wedding reception, as it adds a fun and interactive element to the event.
When setting up a green screen photo booth, the first step is to carefully choose a green screen backdrop. Look for a large fabric or paper backdrop in a vibrant shade of green that can cover the entire photo booth area.
Hang the selected green screen backdrop behind the photo booth area, ensuring that it is smooth and free of wrinkles.
Enhance the photo booth experience by providing an assortment of props and accessories for guests to use while taking their photos.
Proper lighting is crucial to avoid any shadows on the green screen. Make sure the photo booth area is well-lit to achieve optimal results.
Select a photo booth software that allows you to customize the background of the green screen photos, adding a personal touch to each image.
Create a diverse and imaginative collection of unique backgrounds that guests can choose from, allowing them to be transported to any location or experience any whimsical setting.
Provide clear instructions or a guide on how to pose in front of the green screen to help guests capture the best possible shots.
In order to provide guests with tangible memories, set up a printer on-site or offer a digital sharing option for them to easily obtain and relive their photo booth experiences.
With the inclusion of a green screen photo booth, you can effortlessly transport your guests to various locations or create unforgettable and imaginative photo opportunities.
Mirror Photo Booth
A mirror photo booth is a must-have at every wedding celebration, as it brings a unique and interactive element to the event. The mirror booth, functioning as a full-length touchscreen, allows guests to capture fun and creative photos effortlessly.
What makes the mirror photo booth even more exciting is that guests can personalize their pictures using digital props, filters, and personalized messages. They can let their creativity shine through while having a great time. Moreover, the interactive booth offers additional features like GIF creation and slow-motion videos, ensuring endless entertainment for everyone.
To enhance the wedding ambiance, couples can customize the backdrop of the mirror photo booth to perfectly align with their chosen theme and decor. This attention to detail adds an extra touch of elegance.
By incorporating a mirror photo booth into the wedding reception, couples are guaranteed to create cherished memories and provide an enjoyable experience for all their guests. It is an excellent way to make the celebration truly memorable.
Customized Photo Booth Backdrops
Looking to add a personal touch to your wedding photos? Look no further than customized photo booth backdrops. From enchanting floral walls to vibrant balloon arches, eye-catching neon lights to quirky chalkboard designs, these backdrops create the perfect setting for capturing unique and memorable moments. Get ready to elevate your wedding photo booth experience with these creative backdrop ideas that are sure to leave a lasting impression.
Floral Wall Backdrop
A floral wall backdrop is a fantastic choice for any wedding photo booth. It effortlessly adds an air of elegance and romance. Here are a few reasons why incorporating a floral wall backdrop is a great decision:
Visual Appeal: The stunning visual element provided by the floral wall creates a captivating and beautiful background for photographs.
Customization: You have the freedom to select the type and colors of flowers that perfectly match your wedding theme or color scheme. This allows for a personalized touch.
Photography Opportunities: The natural beauty of flowers offers a picturesque setting, ideal for capturing memorable moments.
Versatility: A floral wall backdrop seamlessly complements various wedding styles, ranging from classic to bohemian.
Instagram-Worthy: Guests will adore posing in front of the breathtaking floral backdrop, resulting in shareable moments on social media.
Balloon Arch Backdrop
A balloon arch backdrop is an exceptional and visually appealing addition to a wedding photo booth. It introduces a touch of enchantment and elevates the overall aesthetic of the pictures. Here are a few reasons why opting for a balloon arch backdrop is a fantastic decision:
Eye-catching: The vibrant colors and playful nature of the balloon arch backdrop create an attention-grabbing setting that will make your photos truly stand out.
Customizable: You have the flexibility to customize balloon arches to align with your wedding theme and color scheme, infusing a personal touch into your photos.
Interactive: Guests can engage with the balloon arch, resulting in fun and dynamic poses that capture memorable moments.
Versatile: Balloon arch backdrops work equally well indoors and outdoors, providing a flexible choice for any venue.
Fact: Were you aware that balloon arches have been used as decorations for centuries? They gained their popularity during the Renaissance period in Italy.
Neon Light Backdrop
A neon light backdrop is an extraordinary and captivating choice for a wedding photo booth. This particular backdrop offers a lively and colorful touch to the photos, resulting in a fun and unforgettable experience for guests. The neon lights can be personalized by adding the names of the couple, the wedding date, or any other desired message. The luminosity of the neon lights creates a unique and atmospheric ambiance for the photos, ensuring their prominence. Incorporating a neon light backdrop into your wedding photo booth is an innovative way to infuse a modern and trendy element into your special day.
Chalkboard Backdrop
A chalkboard backdrop is a unique and creative idea for a wedding photo booth. It adds a whimsical and personalized touch to your photos. Here are a few reasons why you should consider a chalkboard backdrop:
Customizable: You can write personalized messages or draw fun designs on the chalkboard backdrop, giving your photos a unique and individualized touch.
Versatile: The chalkboard backdrop can be used with different props and themes, allowing you to create a variety of looks and styles for your photos.
Interactive: Guests can participate by writing messages or drawing on the chalkboard, making it a fun and interactive experience.
Memorable: The chalkboard backdrop provides a lasting memory of your special day, capturing the heartfelt messages and drawings from your loved ones.
Pro-tip: To create an even more vibrant and eye-catching backdrop, consider using colored chalk or adding some decorative elements, such as flowers or fairy lights, to enhance the overall aesthetic and make your Chalkboard Backdrop stand out.
Frequently Asked Questions
What are some unique wedding photo booth ideas?
Some unique wedding photo booth ideas include a giant cardboard cutout that looks like an Instagram frame, a selfie station where guests can take selfies and post them on social media with a specific hashtag, and hiring performers or entertainment for the reception. Other ideas include creating a DIY chalkboard backdrop, using vintage camper vans or vintage cars as photo booths, and setting up a 360-degree wedding photo booth.
Are there any cheap options for wedding photo booths?
Yes, there are cheap options for wedding photo booths. Some budget-friendly ideas include using disposable cameras for guests to take their own photos, setting up a DIY photo booth using a plywood board and props, or using photo booth apps on smartphones with selfie sticks. These alternatives can be a cost-effective way to provide a fun and interactive space for guests.
Can you recommend any companies specializing in wedding photo booths?
There are several companies specializing in wedding photo booths. Mad Hat Photo Booth in Gloucestershire offers a cute wooden photo booth with props and various packages to suit all budgets. That Prop Guy LTD in Staffordshire provides interactive Magic Selfie Mirrors for individual, couple, or group photographs, with different packages available. Hashtag Printing Photo Booth in West Yorkshire allows guests to upload their own photos from their phones to be instantly printed with bespoke artwork.
Do wedding photo booths serve as party favors?
Yes, wedding photo booths can serve as party favors. Guests can take their own fun and quirky pictures at the photo booth and keep them as in-the-moment memories of the wedding. Photo booth companies often offer double printing services, allowing guests to take home a copy of their photo strip and leave another copy as a keepsake for the couple.
What are some tips for successfully pulling off a wedding photo booth?
Some tips for successfully pulling off a wedding photo booth include allowing ample space in the floor plan for the booth, including festive props to enhance the experience, considering the demographics of the guest list when choosing backdrops and props, keeping the wedding photographer and photo booth vendor separate to ensure smooth operations, and thinking outside the box with unique photo booth concepts to impress guests.
Are there any wedding photo booth ideas that are interactive and provide an inventive service?
Yes, certain wedding photo booth ideas are interactive and provide inventive services. For example, Magic Mirror photo booths offer interactive quality by allowing guests to take individual or group photos with a mirror-like screen that provides real-time instructions and animations. Caricature artists can also be hired to create hand-drawn photos of guests during the event, adding a unique and interactive element to the photo booth experience.