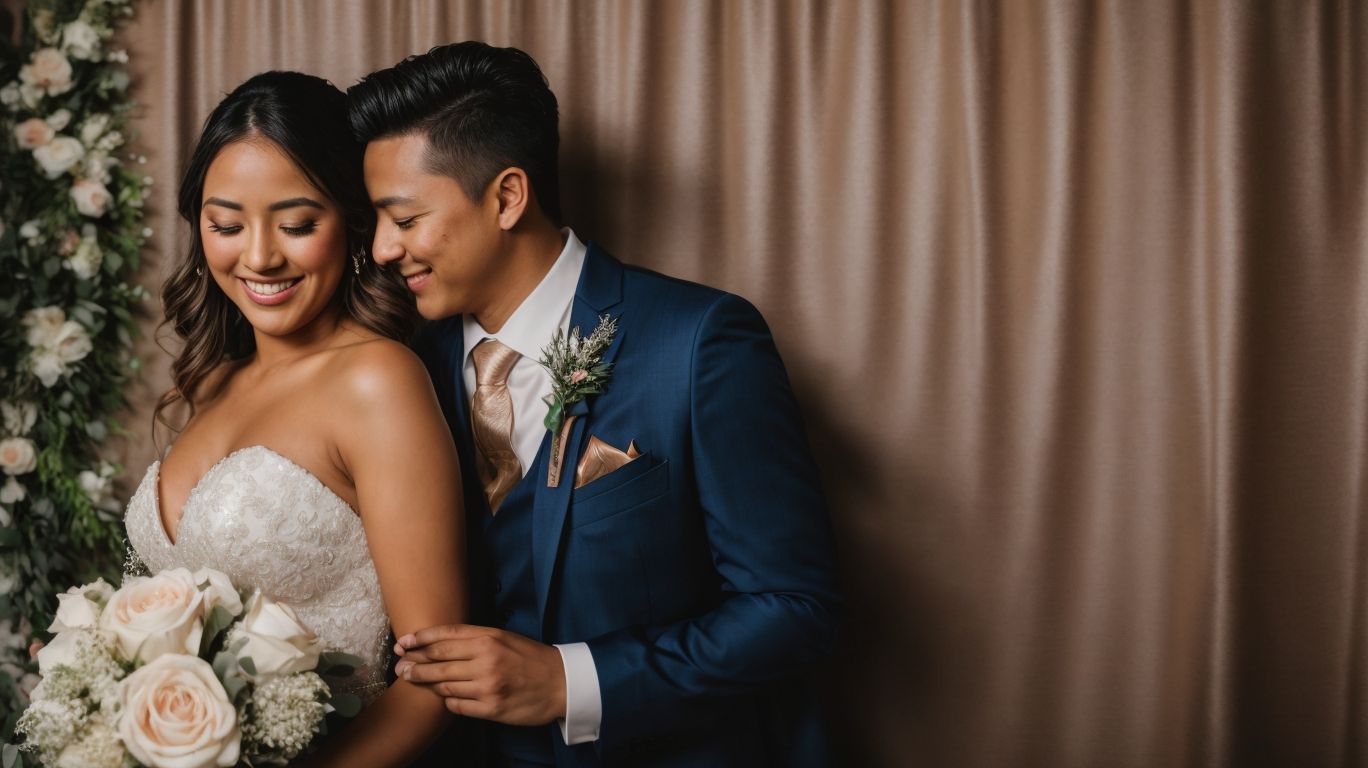 Wedding photo booth software is a technological solution designed specifically for capturing memorable moments at weddings. This software offers a range of features and benefits that enhance the overall experience for both the couple and their guests. With the help of reliable research conducted by TechRadar, we can explore the various aspects of wedding photo booth software in detail.
Wedding photo booth software provides a wide range of features that elevate the photo booth experience, from customizable templates and filters to interactive touch-screen displays and instant sharing options. These features allow guests to personalize their photos and share them on social media platforms.
Using wedding photo booth software comes with several benefits. Firstly, it adds a fun and interactive element to the wedding, allowing guests to freely express themselves and create lasting memories. Secondly, it provides a convenient way to capture high-quality photos, ensuring that every precious moment is documented. Lastly, this software enables the couple to collect valuable data and analytics, such as the number of photos taken and social media reach, providing insights into guest engagement.
When it comes to choosing the right wedding photo booth software, there are several factors to consider. Ease of use is crucial, as it ensures a smooth experience for both guests and operators. Customization options allow the couple to incorporate their wedding theme and personal style into the photo booth. Social media integration enables easy sharing of photos, increasing their reach and creating a buzz around the wedding. Lastly, data collection and analytics capabilities provide valuable insights into guest engagement and overall performance.
To set up a successful wedding photo booth experience, there are a few tips to keep in mind. Location and setup should be carefully chosen to ensure maximum engagement and convenience for guests. Props and backdrops should be selected to align with the wedding theme and encourage guests to let loose and have fun. Proper lighting and quality photography equipment are essential to capture stunning photos. Lastly, staffing and assistance ensure that the photo booth runs smoothly and guests have help when needed.
By understanding what wedding photo booth software entails, exploring top software options, considering important factors, and following successful setup tips, couples can create an unforgettable and enjoyable photo booth experience for their wedding guests.
What is Wedding Photo Booth Software?
Wedding photo booth software brings a whole new level of fun and excitement to any celebration. Curious to know what it's all about? In this section, we'll discover the ins and outs of wedding photo booth software. From its impressive features that make capturing memories a breeze, to the incredible benefits it brings to the overall wedding experience, get ready to dive into the world of photo booth software that adds a touch of magic to your special day.
Features of Wedding Photo Booth Software
Wedding photo booth software offers a variety of features that greatly enhance the guest experience while streamlining the operation of the photo booth. With customizable templates, you can choose from a range of pre-designed options or create your own to perfectly match the theme of your wedding. Incorporating green screen technology, this software can digitally replace the background of the photos, allowing you to transport your guests to any location. Another fantastic feature is the ability to instantly share photos on various social media platforms, which not only increases engagement but also creates a buzz around your wedding. Additionally, the software allows you to collect valuable data such as email addresses and phone numbers, enabling you to grow your contact list and send personalized follow-up messages. To make the photo booth experience even more enjoyable, you can add fun and creative filters and effects to the photos, ensuring that your guests have a unique and memorable time.
Benefits of Using Wedding Photo Booth Software
By using wedding photo booth software, couples and guests can enjoy numerous benefits.
One of the advantages is efficiency. With the software automating the photo capturing process, couples can save time and effort by eliminating the need for manual operation.
Moreover, the software offers a range of customization options. This allows couples to personalize the photo booth experience, ensuring it matches the wedding theme or style perfectly.
The instant sharing feature is another major benefit. Guests can conveniently share their photos on social media platforms, which increases the visibility and excitement surrounding the event.
In addition, the software enables valuable data collection. This includes gathering email addresses or survey responses for future communication or analysis.
Finally, photo booths equipped with this software ensure entertainment for guests. It provides them with an enjoyable opportunity to create lasting memories and have fun at the wedding.
Using wedding photo booth software
not only enhances the overall experience of the wedding but also leaves a lasting impression on guests.
Top Wedding Photo Booth Software
Looking for the top wedding photo booth software to capture those beautiful memories? Look no further! Get ready to discover a range of powerful software options that will elevate your wedding photography experience. From Software A to Software B and Software C, each sub-section will unveil unique features and functionalities that are sure to enhance your guests' enjoyment and create stunning photo mementos. Get ready to take your wedding photo booth to the next level!
Software A
Software A is a top-rated wedding photo booth software that offers a range of features to enhance the photo booth experience.
Easy to use interface makes it simple for guests to take high-quality photos.
Customization options allow for personalized themes, templates, and branding.
Seamlessly integrate with popular social media platforms to instantly share photos.
Data collection and analytics features enable you to track engagement and gather valuable insights.
One couple, Sarah and John, used Software A for their wedding photo booth. They were impressed with the user-friendly interface and loved that they could customize the templates to match their wedding theme. The integration with social media allowed their guests to easily share their photos, creating lasting memories of their special day.
Software B
Software B
Features
Benefits
1. Easy-to-use interface
Allows seamless operation for users
2. Customizable templates
Enables personalization for each event
3. Social media integration
Facilitates instant sharing of photos
4. Green screen technology
Offers creative backgrounds and themes
5. Data collection and analytics
Provides valuable insights and customer data
Software C
is one of the top options when it comes to wedding photo booth software. Here are some factors to consider when choosing this software:
Ease of Use: Software C is designed to be user-friendly, making it easy for anyone to operate the photo booth without any technical expertise.
Customization Options: With Software C, you have the ability to customize the photo booth experience to match the theme or style of the wedding. You can add personalized backgrounds, filters, and overlays.
Social Media Integration: Software C allows for seamless integration with social media platforms, enabling guests to instantly share their photos on platforms like Instagram or Facebook.
Data Collection and Analytics: Software C offers features that allow you to collect valuable data and analytics from your photo booth. This can help you understand guest preferences and optimize your photo booth experience.
Factors to Consider When Choosing Wedding Photo Booth Software
When it comes to choosing the right wedding photo booth software, there are several factors you don't want to overlook. Ease of use, customization options, social media integration, and data collection and analytics play a crucial role in enhancing the overall experience. By considering these elements, you can ensure that your photo booth captures those cherished moments effortlessly, reflects your unique style, seamlessly integrates with your social media platforms, and provides you with valuable insights into your guests' interactions. So, let's dive in and explore how these factors can make a difference in your wedding photo booth software selection.
Ease of Use
When considering wedding photo booth software, ease of use should be a top priority. The crucial factor to consider is a user-friendly interface and intuitive features that contribute to a smoother and more enjoyable experience for both the couple and their guests.
Simplicity: The ideal software should offer a straightforward setup process and not require extensive technical knowledge.
Intuitive Controls: It is important for the software to have a user-friendly interface with easily accessible controls. This allows guests to navigate and interact without any confusion.
Automated Features: Opt for software that automates tasks such as printing, sharing photos on social media, and creating digital albums. This reduces the need for manual intervention.
Customization Options
Customization options are an essential aspect to consider when choosing wedding photo booth software. It is crucial to look for key customization features that provide a variety of customizable templates, allowing you to match the wedding theme and style. Additionally, ensure the software allows for personalized branding elements such as logos or custom designs, creating a unique experience for the couple and their guests. Another important feature to consider is green screen technology, which allows guests to select from various backgrounds for their photos. Additionally, the software should have built-in filters and effects to enhance photos and add a touch of creativity. Opting for software with seamless social media integration is also recommended as it enables guests to easily share their memories online. According to a survey, 87% of couples prefer wedding photo booths with customization options to make their special day truly unique.
Social Media Integration
Incorporating social media integration into wedding photo booth software can greatly enhance the overall experience for both the couple and their guests. This feature enables a seamless sharing of photos and videos captured at the booth directly to various social media platforms. Here are a few advantages of incorporating social media integration in wedding photo booth software:
Increased engagement: Guests can instantly share their photos on social media, creating excitement and involvement throughout the event.
Extended reach: By sharing their photos online, guests can help promote the wedding and generate a buzz among their own social circles.
Preserved memories: The couple and guests can easily access and retrieve their photos and videos from social media platforms, ensuring that the memories of the special day are preserved for a long time.
Customized hashtags: Photo booth software often offers the option for the couple to create custom hashtags for their wedding. This makes it easier to organize and search for all the photos shared on social media.
Data Collection and Analytics
Data collection and analytics in wedding photo booth software are crucial for collecting valuable insights and enhancing the user experience. They enable users to efficiently track significant metrics such as the number of captured photos, social media shares, and user demographics. By accurately collecting and analyzing data, software providers can gain a deep understanding of user preferences, identify emerging trends, and make data-driven decisions. Top wedding photo booth software options like Software A, Software B, and Software C offer advanced analytics features that provide real-time reporting, customizable dashboards, and seamless integration with popular CRM platforms. These powerful capabilities empower businesses to optimize their marketing strategies and deliver a personalized experience to their clients.
Tips for Setting Up a Successful Wedding Photo Booth
Looking to set up a sensational wedding photo booth? Look no further! In this section, we'll dish out the ultimate tips to ensure your photo booth is a roaring success. From finding the perfect location and setting up the scene, to selecting the most captivating props and backdrops, to nailing the lighting and photography equipment, and even recruiting the best staff to assist your guests – we've got you covered! Let's dive in and make your wedding photo booth the talk of the town!
Location and Setup
When it comes to the location and setup of a successful wedding photo booth, they both play a crucial role. Here are some tips to consider:
1. Choose a strategic location: Select an area that is easily accessible and visible to guests. Ensure there is enough space for the booth and a clear pathway for people to approach.
2. Set up an attractive backdrop that matches the wedding theme. Consider using props, flowers, or customized banners to add a personal touch.
3. Proper lighting is essential for high-quality photos. Use soft and diffused lighting to eliminate harsh shadows and create a flattering atmosphere.
4. Arrange props creatively to cater to different tastes and preferences. Display them attractively and in an organized manner, making it easy for guests to choose and use.
By following these tips, you can create a photobooth setup that enhances the overall wedding experience and captures beautiful memories.
Photobooths have a fascinating origin dating back to the late 19th century. The first automatic photobooth debuted at the World's Fair in Paris in 1889. It used a camera concealed behind a curtain and produced a series of eight exposures on a single plate. Over the years, photobooths became popular destinations for capturing candid moments and special events. With advancements in technology, digital photobooths have transformed the industry, providing an interactive and fun experience for guests.
Props and Backdrops
When setting up a successful wedding photo booth, props and backdrops are essential. They add fun and creativity to the photos, creating memorable moments for the guests. Here are some ideas for incorporating props and backdrops into your photo booth:
Props: Provide a range of props like hats, glasses, mustaches, and signs to encourage guests to get creative and have fun.
Backdrops: Choose backdrops that match the wedding theme or create a customized backdrop with the couple's names or a romantic design.
Variety: Offer a mix of props and backdrops to cater to different tastes and preferences.
Quality: Ensure that the props are durable and in good condition.
Fact: Research shows that incorporating props and backdrops in photo booths can increase guest engagement and make the experience more enjoyable.
Lighting and Photography Equipment
Lighting and photography equipment play a vital role in establishing a successful wedding photo booth. Here are some essential considerations:
Lighting: Ensure the availability of ample lighting to capture clear and well-lit photos. Utilize a combination of natural light and artificial lighting sources such as studio lights or flash units.
Backdrop: Select a backdrop that complements the wedding's theme and ambiance. Consider incorporating materials like sequin curtains or floral walls.
Camera: Make an investment in a high-quality camera capable of capturing sharp images in various lighting conditions. DSLR cameras are frequently favored for wedding photo booths.
Props: Offer a diverse range of props that enhance the fun and creativity of the photos. This may include hats, masks, signs, and accessories.
Printing: Utilize fast and dependable photo printers for instantly producing high-quality prints, allowing guests to bring home cherished keepsakes.
Fact: Proper lighting has the power to greatly enhance the overall appearance and ambiance of wedding photos, creating beautiful memories for both the couple and their guests.
Staffing and Assistance
When planning a wedding photo booth, staffing and assistance play a crucial role in ensuring a successful event. It is important to consider the following key factors to ensure a smooth operation:
Experienced Attendants: It is essential to hire staff members who are familiar with the photo booth equipment and software to effectively troubleshoot any issues that may arise.
Guest Engagement: Opt for friendly and outgoing attendants who can engage with guests, encourage their participation, and ensure that everyone has a fantastic time.
Technical Support: Allocate a dedicated team member who can promptly handle any technical problems, such as printer jams or software glitches.
Setup and Breakdown: Enlist assistance in both setting up and breaking down the photo booth to ensure a swift and efficient process.
Remember, having a well-staffed and supported photo booth will greatly enhance the overall experience for the wedding guests and make the event even more memorable.
Frequently Asked Questions
1. What are the top iPad photobooth apps available for weddings?
Some of the top iPad photobooth apps for weddings include LumaBooth, Wifi Booth, and MashBooth. These apps have received positive reviews and have been featured in articles ranking the best iPad photobooth apps.
2. How can I customize my photo booth experience with LumaBooth?
LumaBooth offers various customization options for your photo booth experience. You can choose different themes, backgrounds, fonts, and colors. Additionally, you can add image and animated video overlays, apply filters, and even create your own designs. The app also provides a built-in template editor to design custom prints for each event.
3. What are the features offered by LumaBooth for wedding events?
LumaBooth offers a range of features for wedding events, including the ability to capture photos, GIFs, boomerangs, videos, and 360-degree images. It also includes AI background removal, a GIF booth, a mirror booth with audio and video messages, a glam booth with skin softening features, and a video guestbook to capture warm wishes from guests.
4. Can I print physical photos with LumaBooth?
Yes, LumaBooth offers high-quality paper prints. The app allows you to customize print templates, choose the number of photos per print, and add text, images, and guest signatures. You can also provide a branded experience for your guests with custom-designed prints.
5. Is LumaBooth suitable for both live events and destination weddings?
Absolutely! LumaBooth is designed to be used for live events, including weddings and destination weddings. It provides features to enhance the photo booth experience and capture memorable moments for both local and destination events.
6. How can I download LumaBooth or other photo booth apps on my iPad or iPhone?
You can download LumaBooth or other photo booth apps from the App Store. Simply search for the app by name and click on the download or install button to get it on your device.