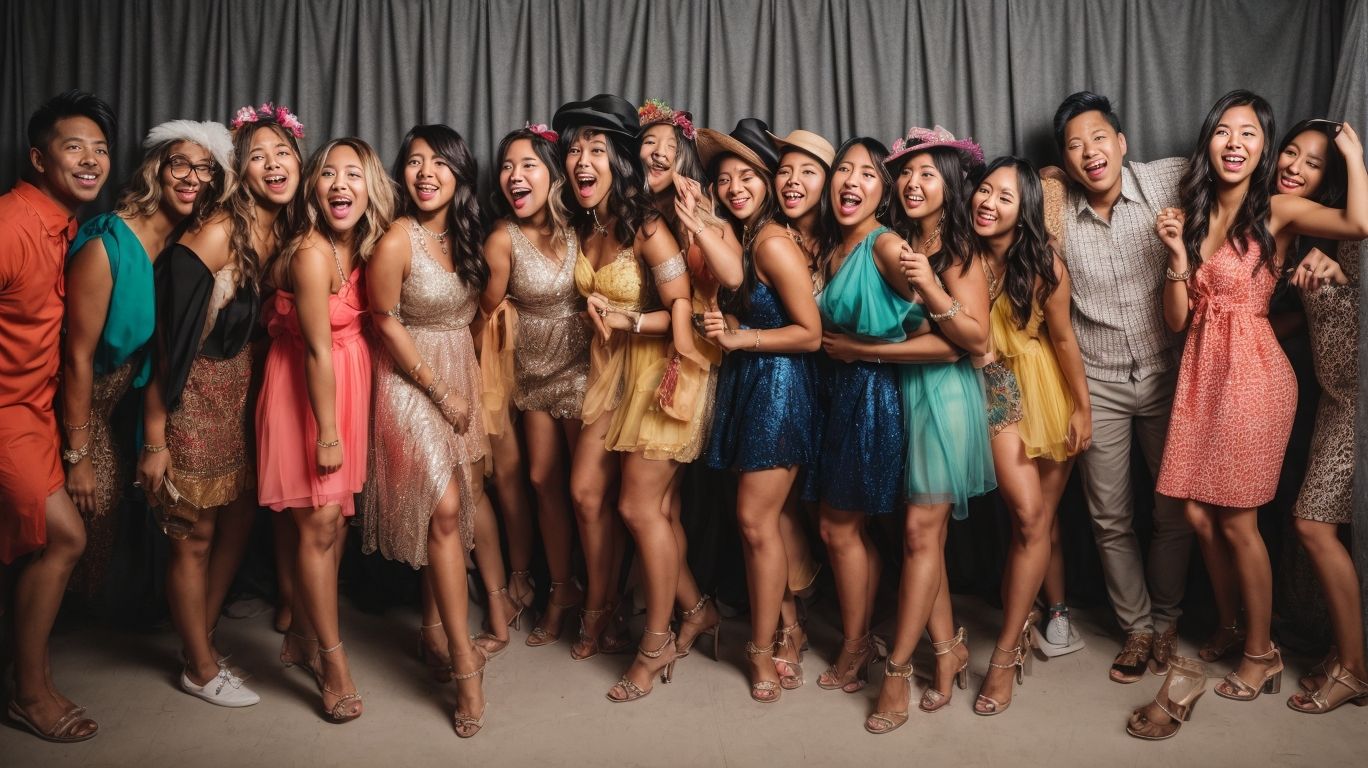 Photo booth rentals are a popular choice for adding entertainment and excitement to events such as weddings, parties, or corporate gatherings. The cost of renting a photo booth can vary depending on several factors. Understanding these factors is essential to budgeting and selecting the right photo booth option for your event.
The factors that affect photo booth rental cost include the type of photo booth, the duration of the rental, and any additional features and services. Different types of photo booths, such as traditional enclosed booths, open-air booths, or mirror booths, come with varying price points. The duration of the rental, whether it's for a few hours or a full day, will also impact the overall cost. Added features like props, backdrops, customized branding, and the presence of a photo booth attendant can incur extra charges.
To give you an idea of the average cost, photo booth rentals generally range from affordable options for basic photo booths to mid-range and high-end options with more advanced features. The cost can vary depending on the rental company, location, and the specific package or bundle you choose.
In addition to the rental cost, there are other considerations to keep in mind. Renting props and backdrops, hiring a photo booth attendant for setup and assistance, and customizing the booth with branding or special themes may have additional costs. It's important to factor in these expenses when planning your budget.
If you're looking to save money on photo booth rental, there are some tips you can follow. Consider renting for a shorter duration, opting for a basic package without extra features, or booking during off-peak times. Comparing prices from different rental companies and negotiating a package that suits your needs can also help you find a more cost-effective option.
By understanding these factors and considering your specific event requirements, you can make an informed decision about photo booth rental, ensuring a fun and memorable experience without breaking the bank.
Factors Affecting Photo Booth Rental Cost
Planning to rent a photo booth? Let's dive into the factors that can affect the cost. We'll explore how the type of photo booth, the duration of rental, and additional features and services can all play a role in determining the final price. Get ready to uncover the key elements that contribute to the overall expense of renting a photo booth. Say cheese and let's get started!
Type of Photo Booth
| | | |
| --- | --- | --- |
| Type of Photo Booth | Features | Examples |
| Enclosed | Provides privacy, equipped with curtains or walls | Traditional enclosed booths |
| Open-Air | No physical barriers, allows for large group photos | Selfie mirrors, open-air kiosks |
| Mirror Booth | Interactive touch-screen mirror, animations, and games | Mirror Me booth, Magic Mirror booth |
| GIF Booth | Captures multiple photos in quick succession, creates animated GIFs | GIF pods, SloMo booths |
| 360 Booth | Captures photos from all angles, creates immersive 360-degree images | 360 photo booths, Orbitcam booths |
Fun Fact: Did you know that the first known photo booth was introduced in 1889 by the Photomaton company in Paris?
Duration of Rental
The duration of rental is an important factor to consider when booking a photo booth. Here are some things to keep in mind:
Event Length: Determine how long your event will last and choose a rental package that aligns with your needs.
Hourly Rates: Many photo booth companies offer hourly rates, so select a duration that fits within your budget and event timeline.
Minimum Booking Time: Some companies may have a minimum rental time requirement, so make sure to inquire about this before booking.
Extended Time: If you anticipate needing the photo booth for an extended period, ask about additional fees or special rates for longer rentals.
To ensure a smooth experience, plan ahead and communicate your specific rental duration requirements with the photo booth company.
Additional Features and Services
When renting a photo booth, you have the option to choose from a variety of additional features and services that can enhance your experience. Consider the following:
Backdrop options: Select from a diverse range of backdrops that can perfectly match your event theme or style.
Props: Enjoy the playful addition of props such as hats, glasses, and signs, which can greatly contribute to the entertainment value of your photos.
Green screen technology: With the use of green screen technology, you have the ability to transform your background into any desired scene or location.
Video messaging: Guests are given the opportunity to leave video messages along with their photos, adding a personal touch to your event memories.
Social media integration: Take advantage of instant photo sharing on various social media platforms.
Pro-tip: In order to make the most of your photo booth rental, prioritize the additional features and services that align with your event goals and budget.
Average Cost of Photo Booth Rental
Planning to rent a photo booth for your upcoming event? Wondering how much it might cost you? Well, in this section, we'll dive into the average cost of photo booth rentals. From basic setups to mid-range options, and even high-end photo booths, we'll explore the different cost ranges involved. So, get ready to discover the pricing details that will help you make an informed decision and capture those memorable moments without breaking the bank. Let's dive right in!
Cost Range for Basic Photo Booths
When it comes to basic photo booths, the cost range for these booths can vary significantly based on factors such as location and duration of rental. It's important to consider a few key factors when looking at the cost range of basic photo booths:
- Type of Photo Booth: Basic options like traditional enclosed or open-air booths tend to be more affordable in terms of cost range.
- Duration of Rental: The cost range for basic photo booths can range from hourly rates to full-day rates, depending on how long you need the booth for.
- Additional Features and Services: Basic packages usually include unlimited prints and a digital copy of the photos, but additional features and services may come with an added cost.
It's worth noting that the specific cost range for basic photo booths may differ based on your location and the offerings of the vendor you choose to rent from.
Cost Range for Mid-range Photo Booths
Mid-range photo booths offer a balance between affordability and features, falling within the cost range of $400 to $800 for a 3-4 hour rental. These booths provide high-quality photo prints and digital copies, along with basic props and backdrops. Additionally, customizable branding options are available, and an on-site photo booth attendant is present for technical support and assistance. Social media sharing capabilities are also included, and there are optional add-ons such as green screen technology or GIF creation.
To save money on mid-range photo booth rentals, consider booking during non-peak times or weekdays. Additionally, inquire about package discounts or bundle deals that incorporate other event services. You can also ask if providing your own props and backdrops could help lower the cost. It is important to read reviews and compare services to ensure you choose a reputable photo booth rental company that provides good value for your money.
Cost Range for High-end Photo Booths
Cost Range for High-end Photo Booths
High-end photo booths are known for offering a wide range of top-of-the-line features and services; however, it is important to keep in mind that they do come with a higher price tag. When considering the cost range for high-end photo booths, the following factors should be taken into account:
Advanced Technology: High-end booths often include advanced features such as green screen technology, slow-motion video, and augmented reality.
Customization Options: These booths provide extensive branding and customization options, allowing you to tailor the experience to perfectly match your event's theme or style.
Upscale Aesthetics: High-end booths are meticulously designed to impress, boasting sleek and stylish exteriors that effortlessly add a touch of elegance to any event.
Exceptional Service: Opting for a high-end booth guarantees the presence of a professional and attentive photo booth attendant who ensures a seamless experience for your guests.
It is worth noting that the cost range for high-end photo booths can vary significantly, starting from $1,500 and potentially exceeding $5,000, depending on the specific features and services included.
Additional Costs and Considerations
Planning to rent a photo booth? Brace yourself for some additional costs and nifty considerations. We'll uncover the hidden expenses and extras that come with it. From props and backdrops to the support of a photo booth attendant, we'll take you through the fun essentials that spice up your experience. Not to mention, the endless possibilities for customization and branding, making your booth uniquely yours. So, get ready to snap, smile, and explore the exciting world of photo booths!
Props and Backdrops
When renting a photo booth, props and backdrops are essential elements that greatly enhance the overall experience and create unforgettable photos. Here are some key factors to consider when it comes to props and backdrops:
1. Extensive selection of props: It is important to choose a rental company that offers a diverse range of props to cater to various themes and events. Props such as hats, glasses, and signs can infuse fun and creativity into the photos, making them truly memorable.
2. Customization options: Opt for a rental company that provides the opportunity to personalize props and backdrops with logos, names, or event-specific details. This customization adds a unique touch and makes the photos even more special.
3. Focus on quality: Ensure that the props are in excellent condition and constructed from durable materials that can withstand frequent use. When it comes to backdrops, selecting ones made from high-quality fabric or vinyl will result in a more professional and refined look.
4. Coordinated themes: Take into consideration props and backdrops that seamlessly match the theme or color scheme of your event. This thoughtful coordination will create a cohesive and visually appealing setting for the photo booth.
Pro tip: To save money, you can also explore the option of DIY props and backdrops using materials like cardboard, fabric, or paper. Let your creativity shine as you design unique elements for an exceptional photo booth experience.
Photo Booth Attendant
A photo booth attendant plays a crucial role in enhancing the overall photo booth rental experience. They provide professional support, manage the equipment, and ensure smooth operation. By setting up and dismantling the booth, troubleshooting technical issues, and assisting guests with props and posing, the photo booth attendant adds value to the event. Here are a few reasons why having a photo booth attendant is beneficial:
| | |
| --- | --- |
| Professional support: | The photo booth attendant, also known as the photo booth operator, is trained to operate the equipment. They ensure high-quality prints and a seamless functioning experience throughout the event. |
| Guest engagement: | The presence of a photo booth attendant creates an interactive atmosphere. They engage with guests, encouraging them to participate in the photo booth experience and fostering a fun and lively environment. |
| Equipment management: | The photo booth attendant takes care of all equipment-related tasks. They monitor the printer, ensure an adequate supply of photo paper, and replace ink cartridges if needed. |
| Assistance with props: | Attendants assist guests in selecting props and guide them on different poses, resulting in more creative and memorable photos. |
| Technical troubleshooting: | In case of any technical issues, such as a camera malfunction or printer jam, the photo booth attendant promptly resolves them. Their expertise minimizes disruptions and ensures smooth operation. |
Customization and Branding
When it comes to photo booth rental, customization and branding play a significant role in creating a unique and memorable experience. Here is a list of ways to incorporate customization and branding into your photo booth rental:
Customized Backdrops: Choose a backdrop that reflects your event's theme or incorporates your company's logo or colors.
Branded Props: Include props with your company's logo or customized messages for guests to use in their photos.
Custom Photo Templates: Customize the layout and design of the photo prints with your event's logo, branding, or personal message.
Branded Sharing Options: Add your company's logo or website to the digital sharing options, such as social media uploads or email delivery.
Custom Graphics and Wraps: Transform the photo booth's exterior with customized graphics or wraps that showcase your brand or event theme.
Incorporating customization and branding elements into your photo booth rental can help reinforce your brand identity or create a personalized touch for your event.
Tips to Save Money on Photo Booth Rental
When planning an event, it is important to consider ways to save money on the cost of a photo booth rental. Here are some tips to help you:
Compare prices from different rental companies to find the best deal.
Look for package deals that include props, backdrops, and unlimited prints.
Consider renting the booth for a shorter period of time or during off-peak hours.
Ask about any discounts or promotions available.
Opt for a digital-only package instead of prints to save on printing costs.
By incorporating these tips, you can effectively save money on your photo booth rental without compromising on the fun and entertainment it provides.
Frequently Asked Questions
What is the average cost range for renting a photo booth?
The average cost range for renting a photo booth nationally is between $425 and $1,000. The price can vary depending on factors such as rental time, day of the week, and time of year.
How much does it typically cost for a three-hour photo booth rental package?
The starting price for a three-hour photo booth rental package is around $551. However, the cost can increase based on additional features and booth type. It is best to check with the rental company for specific pricing.
Can I rent a photo booth for a shorter duration than the minimum required?
Most photo booth rental companies have a minimum rental duration of 2 or 3 hours. It is unlikely to find a rental for a shorter duration than the minimum specified by the company.
Are there additional costs for renting a photo booth for longer than the minimum required hours?
Yes, the rental prices for photo booths are typically based on the duration of the rental. If you want the booth at your wedding or event for longer than the minimum required hours, the cost will be higher. It is best to inquire with the rental company about the pricing for additional hours.
What are some additional features that might increase the cost of a photo booth rental?
Additional features such as props, custom backdrops, and video capabilities can increase the cost of a photo booth rental. Technologically advanced booths with features like green screens and high-quality cameras also come at a higher price. It is recommended to discuss these options and their associated costs with the rental company.
Can I rent a photo booth for events other than weddings?
Absolutely! Photo booths have become popular for various events including kids' parties, birthdays, festivals, corporate events, reunions, fundraisers, proms, and school events. They provide a fun and memorable activity for guests of all ages and can be customized to suit different occasions.